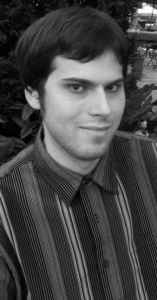 Thad Komorowski is a lifelong devotee to the arts and sciences, be it through his work as a journalist, reporter, restoration artist, or animation historian. Whether you need thought-provoking commentary, a cultural news piece, a snappy new comic, or a stunning film restoration, Thad K. is your one-man answer.
Always expert, critical, and analytical, Thad spent several years of research working on his first book, Sick Little Monkeys: The Unauthorized Ren & Stimpy Story, which was published in 2013 and garnered unanimous praise from critics, artists, and fans alike. He holds a Bachelor of Arts in Journalism from Ithaca College and a Master's from the CUNY Graduate School of Journalism.
Currently he wears a variety of hats: you can hear his arts and entertainment reports regularly on WBGO News (88.3 FM, Newark), see his digital restoration work on upcoming classic film Blu-Ray releases (including the Criterion Collection), and read his scripts in the IDW Publishing line of Disney comic books.
When you ask his clients and past supervisors about him, "expert, quality, and professional" will be the words of the day. Want well-rounded, good-natured, and humorous, too? Look no further. No job is too big or small, so don't hesitate to reach Thad.